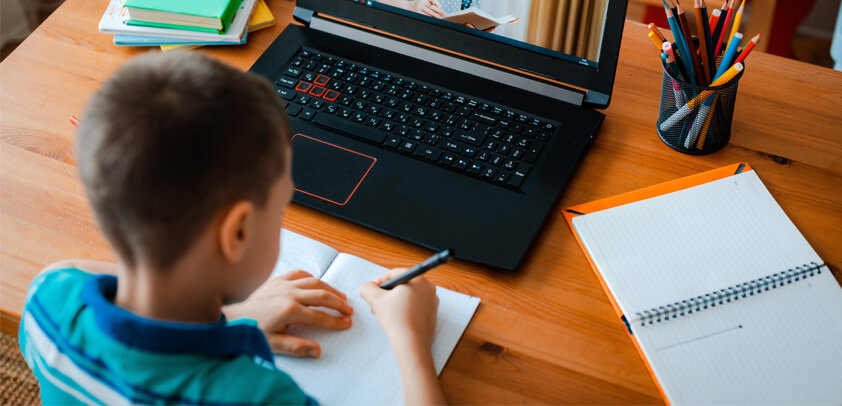 Shifting to Online Learning Amidst COVID-19
In light of COVID-19, the Maryland International School (MDIS) campus has temporarily closed and shifted to online learning. After several weeks of preparation, hard work and dedication from our teachers and staff, MDIS went live with remote learning on March 18, 2020.
"I am proud of our students, faculty, and staff for their efforts in making online learning successful," said Rebekah Ghosh, Head of School & Executive Director, "In this unprecedented time, our students remain eager to learn and engage with their classmates, and our teachers are ready to take on the challenges of online education."
MDIS has always been STEM and technology-focused. Students have experience using Chromebooks on a daily basis which allowed for a smoother transition to online learning. However, with our shift from face-to-face to online education, our new remote learning avatar, CyberEd, is helping prepare students as they adjust to their new online learning schedule.
After day one, parents were pleased that MDIS was able to quickly shift to online education, preventing a learning gap in their children's education. Given our required social distancing, students are able to continue their education and maintain a sense of routine, while at home.
Beyond our goal of extending to education online, we seek to keep our MDIS family connected; providing structure, support, and continuity in this trying time. We will continue to live out our mission by bringing our community together in new ways.
Research shows that kids thrive academically when provided a structured schedule. Our teachers and administrators are working to provide students with a consistent schedule. This will help relieve some anxieties the students may be feeling, as well as make the transition back to face-to-face learning in school much easier when the time comes.
Day to day, each student will login to their classes virtually via Google Classroom. Lessons are a combination of pre-recorded lessons, live streams, where students and teachers can interact in real-time, assignments that provide direct interaction between classmates, and a combination of screen time and unplugged activities.
Our Lower School students (Grades 1-5) have pre-recorded lessons from their teachers. This allows the students to hear and see the lessons taught in a familiar format by their teachers, work at their own pace, and re-watch lessons when they need to. The teachers then follow-up to see how the students are progressing. Our Upper School (Grades 6-12) students have real-time teleconferences with their teachers. This holds the students accountable for their learning and ensures continuity of education.
"We are trying to connect with our students in real-time," said Emily Seppa, PYP Coordinator/Curriculum, Instruction, & Assessment Coordinator, "This can be via video chat, phone call, and/or online text chats between the students and teachers. We find that this brings some normalcy to our student's learning, which is much needed."
Students are still participating in their enrichment activities beyond their typical classroom instruction. Enrichment teachers are posting weekly assignments related to health, language, art, and music. Enrichment activities allow students to continue staying active, exploring their creativity, and developing new skills.
Thank you to our students, parents, faculty, and staff for making the MDIS transition to online education successful!
The mission of Maryland International School (MDIS) is to provide an academically rigorous and supportive college-preparatory education with an interdisciplinary and applied focus on the Science, Technology, Engineering and Mathematics (STEM) disciplines, in order to prepare students to become creative problem solvers, effective communicators and tomorrow's leaders who think ethically, independently, and globally. Visit us online to learn more.