Maryland International School is a grades 1-12 International Baccalaureate World School.
MDIS is the only school in Maryland and the 2nd school in the Mid-Atlantic region to offer all three International Baccalaureate (IB) programs (Primary Programme, Middle Years Programme, and Diploma Programme) in conjunction. MDIS is located on a beautiful nine-acre campus in Elkridge, MD, conveniently located and easily accessible from the greater Baltimore metropolitan region, Washington, D.C., and surrounding areas. We offer bus transportation services, with stops in Howard, Baltimore, Anne Arundel, & PG Counties. MDIS is operated by The Ghosh Family Foundation, a 501c3 nonprofit organization.
The Mission of MDIS is to provide an academically rigorous and supportive college-preparatory education with an interdisciplinary and applied focus on the Science, Technology, Engineering, and Mathematics (STEM) disciplines in order to prepare students to become creative problem solvers, effective communicators, and tomorrow's leaders who think ethically, independently, and globally.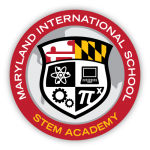 To prepare our students to become creative problem solvers, effective communicators and tomorrow's leaders who think ethically, independently, and globally.
Academically Rigorous
The learning experiences and educational expectations, which are academically, intellectually, and personally challenging, allow students to understand complex concepts and to acquire skills that can be applied in a variety of contexts throughout their lives.
Supportive
The social and emotional learning experiences allow students to develop the following: self-awareness, social awareness, relationship skills, responsible decision making, and self-management.
College Preparatory
Our mission, curriculum, and support systems provide a fully integrated program of academics, advanced and early college courses, postsecondary preparation, as well as, personal and career development for every student.
Global Perspective & STEM
STEM challenges when studied from a global perspective provides a relevant and engaging framework to learn course content and develop feasible solutions.
Family & Community Engagment
At MDIS, family, community, staff, faculty, and administrators work together to fulfill the mission of our school through a variety of events and programs.
Diversity and Inclusion Statement
MDIS is committed to providing a safe and welcoming learning environment for all, based on mutual respect and kindness. We embrace diversity to ensure inclusivity in all aspects of our school life. The diversity that students bring to MDIS is viewed as a strength, we promote a culture that is accepting, empowering, and ever-changing.
MDIS and the IB believe that all candidates should be allowed to demonstrate their ability under assessment conditions that are as fair as possible. Standard assessment conditions may put some candidates at a disadvantage by preventing them from demonstrating their level of attainment. Inclusive access arrangements may be applied in these circumstances if it is observed that they could reduce or minimize barriers for the candidate.
The vision for MDIS began in 1993
when Dr. Pradip and Mrs. Kumkum Ghosh opened Children's Manor Montessori School (CMMS) in Ellicott City, MD. Over the years, CMMS grew to be the largest Montessori family of schools, with 9 locations across Maryland. Both Montessori and IB programs inspire a passion for inquiry-based learning and develop the whole child. Wanting to offer an IB education to their CMMS students aging out of Kindergarten & Elementary, MDIS was founded in 2017 and is operated as a non-profit by Ghosh Family Foundation. MDIS achieved International Baccalaureate World School Status in June 2019, becoming the only school in Maryland and 2nd school in the Mid-Atlantic region to offer all three IB Programmes.